Skip to Content
Bright Smile Family Dentistry's Dental Coupons
One of the most significant assets that sets us apart is our dental discounts. Bright Smile Family Dentistry regularly offers dental specials to our patients in Edmond and Oklahoma City Metro with our dentist coupons. We continue to provide the highest quality of patient care while providing affordable dentist coupons to ensure the best possible service. We want our patients to feel comfortable and at home in our dental office. By offering specials, you know you're in trusted hands that want the best for you.
Bright Smile Family Dentistry Coupon Examples
Our dental specials change regularly, but you can always expect some amazing discounts. From a free second opinion to a 5% travel discount, you never know what will be on our website. We've offered an exam, cleaning, and X-rays for as little as $99, fluoride for $135, natural tooth-colored fillings for $199, and $699 for all-porcelain crowns. We've helped patients save hundreds of dollars on dental treatments. We understand you want to look and feel your best. We want to help you achieve your dream smile with our dental coupons.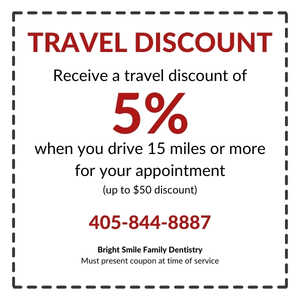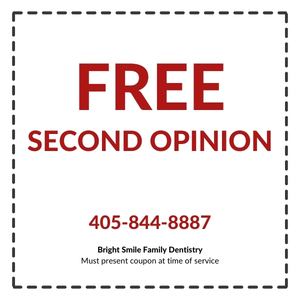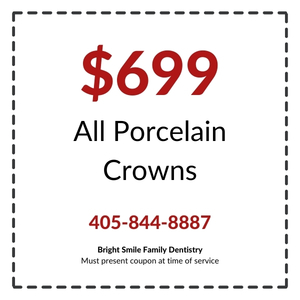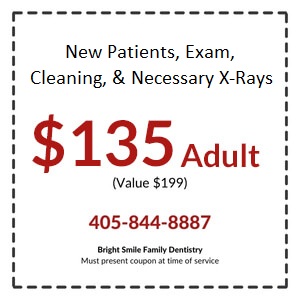 New patients Exam, Cleaning, & Necessary X-rays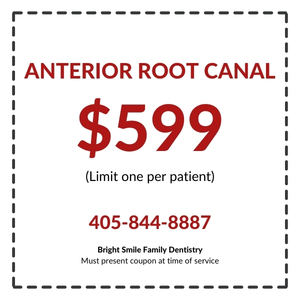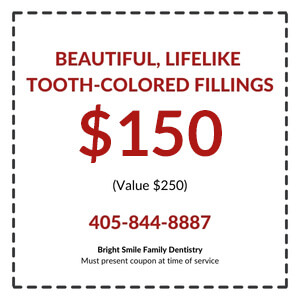 Beautiful, Lifelike Tooth-Colored Fillings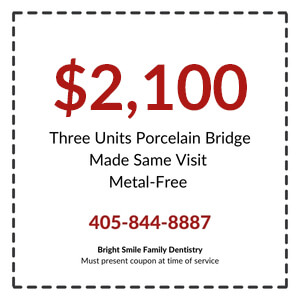 Bright Smile Family Dentistry Services
We invite you to always check out our specials to find the perfect dental treatments to fit your needs. Our services include:
Contact Bright Smile Family Dentistry
Bright Smile Family Dentistry is your premier dentist working hard to put Midwest City and Edmond patients first. We offer IV sedation dentistry for almost all services to ensure a pain-free, anxiety-free dental visit. Check out our specials regularly to find the ones that work best for your needs. Contact us today to schedule an appointment.
To Schedule Your Check-up and Cleaning, Contact Us Today!