Skip to Content
Pediatric Dentistry in Edmond, OK
Kids Smile Pediatric Dentistry
At Bright Smile Family Dentistry, we encourage parents to get their children on dedicated oral hygiene regimens as early as possible. We provide comprehensive pediatric dentistry services in Edmond, OK to help kids get off to the best start. Our dedicated team is here to prepare your child for a healthy smile that lasts a lifetime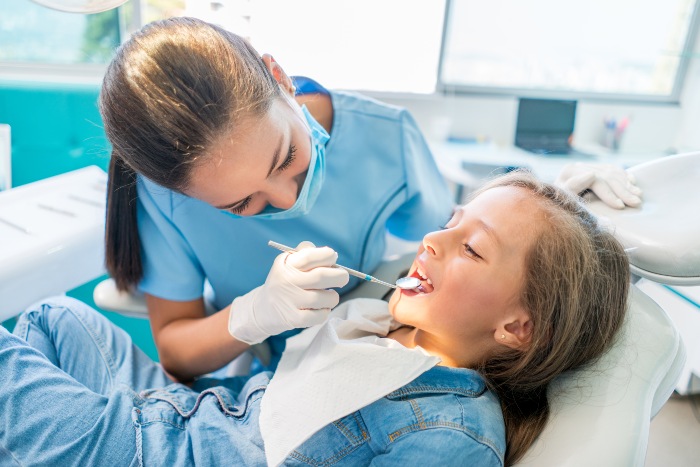 Understanding Pediatric Dentistry
A pediatric dentist undergoes additional years of training to specialize in children's dentistry. They promote proper oral development in children, focusing on dental care and maintenance. These practices are essential to a child's chewing habits, speech function, and oral health. Furthermore, it helps to ensure a child has an adequate foundation for their adult teeth.
The Role of a Pediatric Dentist
Your child's pediatric dentist will be the cornerstone of their oral health as they grow. Pediatric dentists provide many valuable functions to your child's development, including:
Education of proper oral hygiene habits
Monitoring the development of their teeth, gums, and jawbone
Preventative treatments to preserve their oral health
Early intervention of dental concerns
Children and Teenager Dental Treatments
Pediatric dentistry for children and teenagers is focused on preventative treatments that promote lasting oral health. As such, Bright Smile Family Dentistry provides an array of comprehensive preventative and restorative pediatric dentistry services, including:
Dental examinations
Dental cleanings
Fluoride treatments
Dental sealants
Fillings and crowns
Extractions
Schedule Your Child's First Dental Appointment
When scheduling your child's first dental appointment, the earlier, the better. We recommend scheduling their first visit to Bright Smile Family Dentistry when their first tooth grows in. It's important to schedule an appointment prior to their first birthday as preventative dental care is instrumental in optimal oral health development.
What To Expect at a Pediatric Dental Appointment
Pediatric dentistry appointments may be daunting for children and parents alike. However, Bright Smile Family Dentistry strives to make your experience as pleasant as possible. When you arrive at our warm and welcoming facility, you will be greeted by dedicated professionals ready to make your child feel comfortable.
What's Included in Pediatric Dental Appointments
If it's your child's first pediatric dental appointment, Bright Smile Family Dentistry is here to ensure you feel confident and informed. The steps involved in your child's appointment include:
Detailed oral health examination
Review any dental concerns to curate a personalized treatment plan
Discuss preventative dental care recommendations
The Benefits of Pediatric Dentistry
Pediatric dentistry services are essential. As such, they offer a wealth of benefits, including:
Early intervention
Prevention of teeth and gum concerns
Establishment of healthy oral hygiene habits
Mitigate dental anxiety
Personalized treatment that evolves as your child ages
Orthodontic preparation
Nutritional guidance and habit counseling
Education for parents
Enhanced long-term oral health
How Often Should My Child See a Pediatric Dentist?
We recommend that children see their pediatric dentist every six months. However, your child's unique dental needs vary depending on their oral health condition and age. Our trusted pediatric dentists will work with you to develop a dental care plan schedule that suits your child's needs.
Prepare Your Child for Visiting the Dentist
To ensure success for your child's first dental visit, it's important to prepare them. To ensure a smooth visit, we recommend the following:
Use age-appropriate language to highlight what they can expect from their visit
Avoid negative verbiage
Watch videos or read books about the dentist
Bring a comfort item to their visit
Teaching Your Child How to Care for Their Teeth
Teach your child about oral hygiene starting at a young age to help them adopt healthy habits. It's important to begin brushing their teeth at the sight of their first tooth and to schedule regular dentist visits. Encourage them to brush twice daily for at least two minutes each time.
Schedule Your Child's Pediatric Dentist Visit Today
If the time has come to schedule your child's first pediatric dental appointment or if you're looking for a trusted pediatric dentist for your teen, Bright Smile Family Dentistry welcomes you. Discover compassionate, hands-on pediatric dental care that contributes to lasting oral health. Contact us today to schedule an appointment.
To Schedule Your Check-up and Cleaning, Contact Us Today!