Skip to Content
Providing Affordable Dentures in Edmond, OK
Quality, Affordable Full or Partial Dentures
If you have multiple missing teeth, your dentist may recommend full dentures or partial dentures. Dentures are a fixed or removable replacement for natural teeth and gums. At Bright Smile Family Dentistry, we specialize in affordable dentures in Edmond, OK. We work closely with each patient to assess their needs and goals and find the right type of dentures for their lifestyle.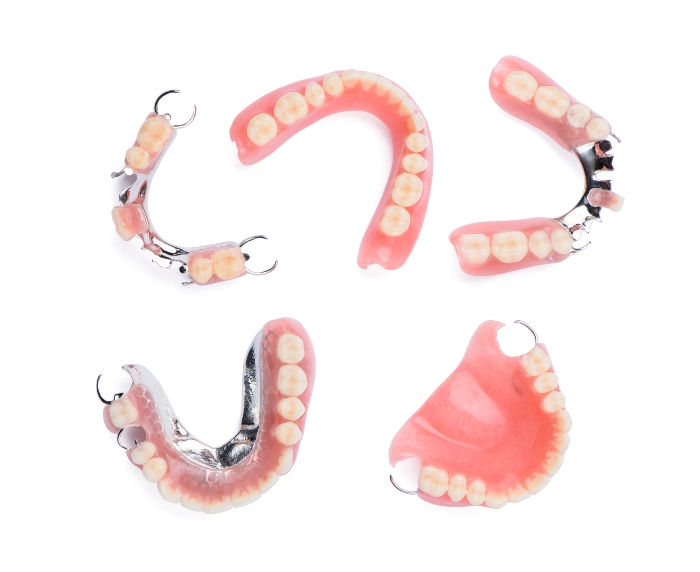 What Are Dentures?
Dentures are artificial teeth and gums that are custom-made in a dental laboratory. They look natural and restore function to your mouth so you can smile, chew, eat, and talk. Depending on your needs, dentures can replace all your teeth or just the top or bottom teeth. Removable dentures can be removed for cleaning and sleeping, while implant dentures are permanently fixed in place and are cared for like natural teeth. Your dentist will assess your gums, jawbone, facial structure, and lifestyle to determine the best type of dentures for you.
How Are Dentures Made?
Before your dentures are made, your dentist will do a full oral exam and take 3D digital X-rays and an impression of your mouth. He will then create wax or plastic models of your dentures so that he can check them for fit and comfort. These models are then placed in an articulator, which is a mechanical piece of equipment that allows the technician to attach the teeth. The technician will then carve the wax model to look like gums and place it in a flask. He then pours plaster into the flask to create a mold of the denture shape. The mold is washed in hot water so the wax melts off. The technician then injects acrylic into the plaster mold and removes the plaster. Finally, he trims and polishes the dentures, and you will return to your dentist's office for a final fitting.
Full Dentures – Full dentures are also called complete dentures. They replace upper and lower sets of teeth and are removable. They are made of porcelain or acrylic held together by an acrylic or metal base. Your dentist will recommend full dentures when you lose all your teeth or need to have all of your teeth extracted due to damage, decay, illness, or disease. Full dentures can last between 5-10 years with proper care and maintenance.
Partial Dentures – Partial dentures fill gaps in missing teeth. They can be removed when needed.
Temporary Dentures – Temporary dentures are also called immediate dentures. They are fitted right after teeth are removed, so you don't need to go without teeth. You will use them until your permanent dentures are fitted, and they can help you eat, chew, talk, and live a normal life while you wait for your permanent dentures.
Flexible Dentures – Flexible dentures are like partial dentures but are made from a thin thermoplastic material like nylon. They are more comfortable and look more natural than acrylic dentures.
Fixed Bridge – A fixed bridge replaces one or more missing teeth. The bridge consists of dental crowns placed on the top of the teeth on either side of the missing tooth or teeth. Dental implants are then placed to anchor the prosthetic tooth or teeth into place.
Cantilever Bridge – A cantilever bridge replaces a missing molar when there are no teeth to support a fixed bridge.
Implants – Dental implants are prosthetic tooth roots that consist of a titanium rod and an abutment onto which the prosthetic tooth is screwed. The implant is surgically inserted into the jaw bone to support or anchor the prosthetic tooth.
Implant Dentures – Implant dentures are fixed or permanent dentures that are not removable and are cared for like your natural teeth. Your dentist will surgically insert dental implants into your jawbone and then screw prosthetic teeth into them to replace one or more missing teeth.
Snap-on Dentures – Snap-on dentures are removable dental crowns installed on top of dental implants.
Benefits of Dentures
Replace missing teeth.
Prevent facial collapse.
Restore your smile and confidence.
Reduce the wear and tear on any remaining natural teeth.
Prevent oral health issues from missing teeth, including jawbone atrophy, shifting teeth, misaligned bite, and trouble chewing and talking.
Who Is a Good Candidate for Dentures?
Your dentist will do an oral examination, take dental X-rays, evaluate your overall health, and assess your lifestyle to determine if you are a good candidate for dentures. Good candidates for dentures are people who:
Are missing most or all of their natural teeth.
Can commit to the care and maintenance dentures require.
Have enough healthy gum tissue and jawbone to support the dentures.
Multiple teeth must be extracted due to trauma, decay, infection, disease, or illness.
Don't have any health conditions that affect the health and strength of their jawbone.
How to Take Care of Dentures
When you take care of your dentures, they will last longer, look better, and be more comfortable. Follow these denture care tips:
Rinse dentures in water after eating.
Store and handle your dentures carefully to prevent damage.
Use a soft-bristled toothbrush on your natural teeth, tongue, gums, and roof of your mouth after removing dentures.
Brush your dentures daily with a soft-bristled brush and a non-abrasive dental cleanser.
Soak your dentures overnight in water or a denture-soaking solution.
Rinse dentures before putting them back in your mouth.
Visit your dentist regularly for check-ups and if you have any issues with the fit, comfort, or condition of your dentures.
Schedule a Consultation for Partial or Implant Dentures
Call us today or contact us online to schedule a consultation for partial or implant dentures in Edmond, OK. Our team is committed to patient care and comfort, and we offer compassionate treatment at affordable prices. We believe everyone deserves access to quality, affordable dental care, and we offer a wide array of general, cosmetic, and restorative dentistry solutions to patients of all ages.
To Schedule Your Check-up and Cleaning, Contact Us Today!