Skip to Content
Dental Implants in Edmond, OK
Full-Mouth and Individual Dental Implants in Oklahoma
Dental implants at Bright Smile Family Dentistry are the perfect solution for many Oklahoma City patients wanting to replace missing or damaged teeth. Our board-certified surgeons offer individual and full-mouth dental implants to increase functionality and give your mouth a natural appearance. Our process can restore a single tooth, replace multiple teeth, and support an entire arch of teeth. Bright Smile Family Dentistry is proud to be your go-to comprehensive dental solution office. Whether you need a routine cleaning or want to discuss dental implants, we're here to answer your questions and help you understand each dental process.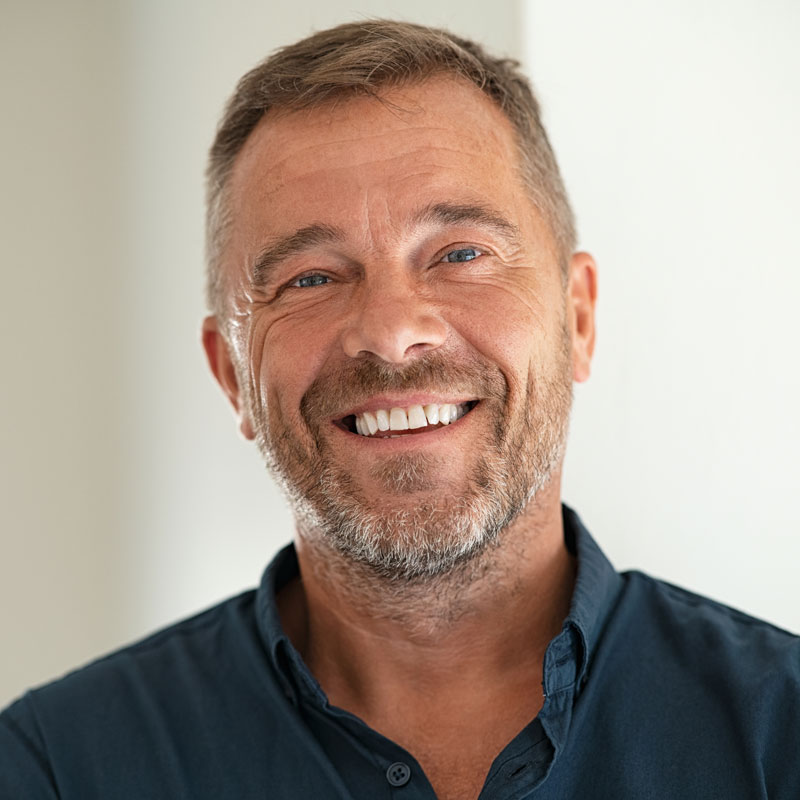 Dental Implants vs. Dentures
Dental implants and dentures both provide a solution for missing or damaged teeth. The main differences include:
Health and Appearance – Dental implants help keep jawbones from deteriorating by using pressure similar to teeth roots to strengthen them. This also helps maintain your facial structure. Crowns and bridges we use with dental implants offer a more natural appearance than dentures.
Function and Comfort – Dental implants are more stable and have a more customized fit than dentures. Dentures can slip around, even with adhesives, and restrict chewing capacity.
Maintenance and Durability – Think of dental implants as a tooth replacement. Dentures must be removed regularly for cleaning, but a dental implant can last 25 years on average.
Types of Dental Implants
There are multiple types of implants, including:
Single Tooth Dental Implants
If you have only one tooth missing, a single dental implant is a perfect solution. A crown will blend seamlessly with your single tooth implant for a natural look.
Implant-Supported Dental Bridges
An implant-supported dental bridge does not disturb the surrounding teeth. Teeth don't need to be shaved down to prepare for crowns, boosting the bridge's support.
Full Bridge Dental Implant
If you're missing most of your teeth or all of your teeth, we can use multiple implants to support a full bridge of fixed dental implants. The full-arch restoration treatment stabilizes an entire area for a natural look and feel.
What Is a Dental Implant?
Dental implants restore missing teeth with a natural tooth structure that allows you to chew and speak with ease. The dental implant is a small titanium screw that combines with the jaw during its healing, stimulating jaw growth. An abutment is attached to the implant that serves as an anchor. Bright Smile Family Dentistry will screw the abutment into the dental implant. It then acts as a root under the crown of a natural tooth. The only difference is that a dental implant is not susceptible to decay.
Dental Implant Benefits
Dental implants have many benefits, including:
Natural Aesthetics– Dental crown dental implants are personalized to blend in perfectly with your teeth.
Stability – Patients can speak and eat without fear of losing or harming their dental implants.
Permanent Solution –Dental implants will last a lifetime with routine dental check-ups and proper oral hygiene habits.
Promote Mouth Health – Dental implants are built to stimulate the jawbone, helping to prevent bone loss.
Contact Bright Smile Family Dentistry
A dental implant can give you the look and feel of your dream mouth. At Bright Smile Family Dentistry, we use innovative techniques with world-class professionalism to ensure your dental visits produce optimal results. If you feel anxious about a dental implant procedure, we offer IV sedation therapy. We do oral and IV sedation for patients' additional comfort and anxiety reduction. Contact us today to schedule an appointment.
To Schedule Your Check-up and Cleaning, Contact Us Today!